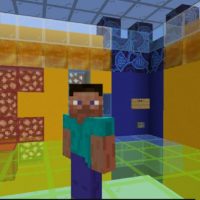 Battlefield Map for Minecraft PE
Version MCPE: 1.12.0 - 1.19.83
Download
Download Battlefield Map for Minecraft PE: fight with your friends or other creatures and be sure to defeat all opponents.
What is interesting in Battlefield Map?
A great opportunity to try your hand at fighting with other players is provided on Battlefield Map. Users will be able to show who is the strongest of all.
By the way, users can fight with various creatures from the Minecraft PE world. It is worth warning that there will always be a lot of mobs, so before starting the game it is better to thoroughly think over your defense.
Battle Arena
This Battlefield Map update is a classic example of PvE battles. Players will have to fight with a huge number of different opponents. At each level, the main goal will be to defeat the boss.
Users should immediately prepare for very fierce and grueling battles. To help the heroes of Minecraft PE, various elements of weapons and equipment will be provided at this location. But even so, only the bravest and most experienced players will be able to cope with all the difficulties.
After completing each three stages, users will move on to more difficult challenges. By the way, this option is only suitable for single use.
Battlefield
Unlike the previous one, this update is designed for a multiplayer game. It is a location with a large number of different buildings, trenches and other buildings useful in battle.
The author of Battlefield Map provided for the need to replenish stocks of weapons and medicines during the game and placed these items throughout the territory. Even health potions, golden carrots and Molotov cocktails can be found in the chests.
Minecraft PE players will be interested in fighting together with friends and finding out which team is stronger. By the way, there are 2 options to choose from: red or blue. Determine your choice at the beginning of the test and let the strongest win.
How to download Battlefield Map?

Tap the file and open it in Minecraft PE.

Can I use this map with my friends?

Yes, the map can be used for a multiplayer game.

Can i use the map in the survival mode?

Yes, the map is suitable for the survival mode.
Download Battlefield Map for Minecraft PE