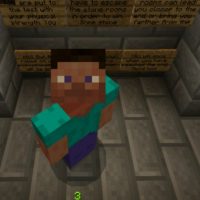 Stone Games Map for Minecraft PE
Version MCPE: 1.19.0 - 1.19.63
Download
Download Stone Games Map for Minecraft PE: explore a unique location and pass all the tests that are prepared on it.
What is new in Stone Games Map?
Minecraft PE is currently a very interesting boundless space that developers change in every possible way and come up with various additions. This time the author of Stone Games Map came up with very interesting entertainment.
All sorts of parkour-style challenges, mazes, and puzzles are waiting for players at the location. Interesting adventures and riddles. Each time the hero will face the question of which path to choose. Try your luck right now.
Levels
In order to make it more interesting for Minecraft PE players to pass the tests, they were divided into 11 stages. Each of which will include various interesting challenges. It is worth noting that the hero can be thrown through the level or returned one back.
The author of Stone Games Map came up with interesting names for each of them:
the first one is called stone bricks and at its beginning, the player will be able to find out all the necessary information about the location and its passage;
followed by mossy stone bricks;
sandstone;
prismarine and others.
During the research, it will be possible to discover chests with various useful items. And also a secret gift is hidden on one of the levels.
Opportunities
Exploring this location and coping with all the challenges will be interesting for any Minecraft PE player. The author of Stone Games Map has put a lot of effort into making the update interesting and exciting.
But not only the ability to overcome obstacles, but also some luck will be required for players. The fact is that periodically you will need to choose one of several options. For example, which of the three doors to go to continue the journey.
It will not be possible to guess in advance which option will be correct, so users should trust their intuition.
How to download Stone Games map?

Tap the file and open it in Minecraft PE.

Can I use this map with my friends?

Yes, the map can be used for a multiplayer game.

Can i use the map in the survival mode?

Yes, the map is suitable for the survival mode.
Download Stone Games Map for Minecraft PE