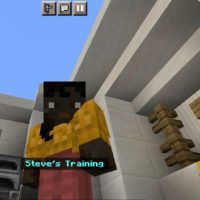 Steve Training Map for Minecraft PE
Version MCPE: 1.19.0 - 1.20.15
Download
Download Steve Training Map for Minecraft PE: test your strength and agility by participating in a variety of challenges, as well as test your intellectual abilities.
What is interesting in Steve Training Map?
An interesting and exciting pastime awaits every user who installs Steve Training Map. The author of this update has prepared several levels where players will test their abilities.
There are stages for strength, dexterity, the ability to use weapons, and even intellectual. On it, the hero of Minecraft PE will have to solve several puzzles. If necessary, Alex will always be present nearby and will help in completing a particular task.
It is worth noting that the developer does not plan to stop and will continue to create similar additions in the future.
Start
After the Minecraft PE player appears on Steve Training Map, he will see several buttons and objects around him. Firstly, Alex will give some important instructions that will be useful in the future, you will also need to learn the basic rules.
There will also be chests with useful items and food that will be needed in the future. To start the first test, find an important item in this room.
Stages
In total, there are 5 stages on this Steve Training Map, each of which offers the Minecraft PE player to test his strength in a particular case. For example, in the first stage, the hero will train accuracy and he will need to find a button. The next test is a favorite of many parkour and it is known to test dexterity.
Next, you will have to become a defender of the innocent and save them from the attack of harmful zombies. The fourth test assumes that the player will show his mental abilities: answer a few questions and solve puzzles.
The fifth stage
In the last test on Steve Training Map, Minecraft PE players will learn only after passing all four previous ones. But it is worth noting that it is the most important and interesting.
How to download Steve Training Map?

Tap the file and open it in Minecraft PE.

Can I use this map with my friends?

Yes, the map can be used for a multiplayer game.

Can i use the map in the survival mode?

Yes, the map is suitable for the survival mode.
download anchor
Download Steve Training Map for Minecraft PE