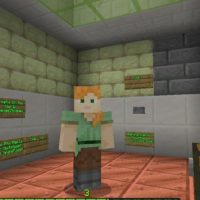 Danger Grass Map for Minecraft PE
Version MCPE: 1.19.0 - 1.20.15
Download
Download Danger Grass Map for Minecraft PE: now almost the entire surface of the cubic world will become dangerous for the player and he will need to avoid it.
What is interesting in Danger Grass Map?
An interesting and exciting adventure has been prepared by the author of Danger Grass Map for all players of the cubic world. The main danger to the lives of Minecraft PE heroes will be the most common grass.
As you know, most of the game space is covered with such blocks, but stepping on them, the player will instantly die. The add-on is suitable for a multiplayer game from 2 to 17 players. In this case, it will be a real race for survival.
You can also take the tests alone. In this case, you just need to look for valuable crystals without stepping on deadly blocks.
Danger Grass
Already from the name Danger Grass Map, it becomes clear to players that it is far from monsters that they have to fear this time. The main danger will be the most common grass. The author has prepared 12 levels of tests.
In them, the heroes of Minecraft PE will have to go through parkour-style tracks, as well as look for diamonds, escaping from spiders and skeletons. The most ordinary shovel can help in passing. Just dig her blocks that you need to step on to keep moving.
The second option is to use dirt blocks and move directly over them.
Part 2
This map is a continuation of the previous update for the Danger Grass Map. Players start at level 13 and finish at level 21. That's why it's worth going through all the previous tests first and then proceeding to the second part.
Minecraft PE heroes will be able to find new items this time, such as an iron pickaxe and armor. They can be found in secret caves.
Part 3
Even more dangerous and challenging tests have been prepared this time for Minecraft PE heroes. In total, they will have to go through 8 levels in this update. Do not start with this part of the Danger Grass Map if the previous ones have not passed, because it is the most difficult and no items will appear here.
How to download Danger Grass Map?

Tap the file and open it in Minecraft PE.

Can I use this map with my friends?

Yes, the map can be used for a multiplayer game.

Can i use the map in the survival mode?

Yes, the map is suitable for the survival mode.
download anchor
Download Danger Grass Map for Minecraft PE