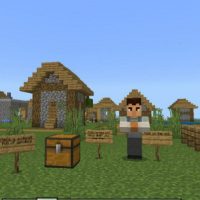 Castle Defense Map for Minecraft PE
Version MCPE: 1.12.0 - 1.20.15
Download
Download Castle Defense Map for Minecraft PE: show your fighting skills to defeat all opponents and secure your territory from their attack.
What is interesting in Castle Defense Map?
For all lovers of beautiful and large-scale battles, the authors have created Castle Defense Map. Now you can spend time with your friends in your favorite game fun and interesting.
The Minecraft PE player who installs this update will have everything necessary to start the process of protecting their territories, which include a castle and a village.
For convenience, the authors took care of a minimal set of tools: armor, weapons, and a faithful horse. Thus, each user, regardless of the gaming experience, can spend time very interesting and unusual.
Defend
Imagine that the player found himself in conditions where from the first minute it is necessary to come up with a clear plan and strategy of action to repel several enemy attacks.  Of course, there is a fully equipped castle with towers on the territory, as well as a special place where you can buy various weapons or armor.
An interesting feature of this map is the ability to attract guards who will help Minecraft PE players fight enemies. Castle Defense Map is a great opportunity to spend interesting and exciting free time in the cubic world. Install the update and start an incredible story.
Castle Defense
This time, Minecraft PE players will also need to act quickly, because enemies can attack the village at any moment and we must try to find the main building before that happens.
This Castle Defense Map update is suitable for both single-player and multiplayer games and will appeal to players equally. The opportunities to show your fighting skills are almost limitless.
Use all existing resources to spend time usefully and get a new gaming experience right now.
How to download Castle Defense Map?

Tap the file and open it in Minecraft PE.

Can I use this map with my friends?

Yes, the map can be used for a multiplayer game.

Can i use the map in the survival mode?

Yes, the map is suitable for the survival mode.
download anchor
Download Castle Defense Map for Minecraft PE