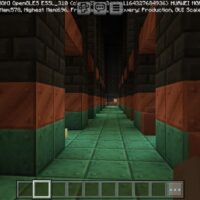 Trial Chamber Map for Minecraft PE
Version MCPE: 1.20.50.20-1.20.40
Download
Download Trial Chamber Map for Minecraft PE: Visit the unique location that was announced at Minecraft Live 2023 and uncover all its secrets.
Trial Chamber Map for Minecraft Bedrock Edition
Especially for those players who always want to be ahead and learn about all the innovations first, the authors have created a Trial Chamber Map. This location is a concept that was presented by the developers at the voting this year.
The uniqueness of this place lies in the fact that it consists of previously unseen blocks. There are also new spawner mobs. And, of course, there are a lot of chests with excellent loot all over the territory, which will be a reward for those Minecraft Bedrock Edition heroes who decide to visit this dark place.
Territory
Every user who installs the Trial Chamber Map should be ready for a long process of exploring underground spaces. Sunlight does not penetrate here, and the space is illuminated with the help of new copper blocks.
The entire space of this location in Minecraft PE is corridors and rooms that make up endless mazes. You can wander endlessly in them, always finding something new and interesting for yourself.
Blocks
Unique blocks of copper and tuff, were presented by the developers at a recent vote. This can be seen in Minecraft PE only in this location. Trial Chamber Map is distinguished by rather dark interiors, which are sometimes illuminated by Copper Bulb blocks.
The walls of the rooms and corridors are dark gray, and the floor is covered with oxidized items of emerald color. Another interesting device that can be seen in this location is the Spawner.
He generates monsters, and after the end of this process gives out good loot that the winner can pick up.
Chests
Another reward for the brave heroes who decide to visit the Trial Chamber Map will be a large number of chests with valuables.
There are quite a lot of them in this location for Minecraft PE and everyone can try to pick up their contents.
How to download Trial Chamber Map?

Tap the file and open it in Minecraft PE.

Can I use this map with my friends?

Yes, the map can be used for a multiplayer game.

Can i use the map in the survival mode?

Yes, the map is suitable for the survival mode.
Download Trial Chamber Map for Minecraft PE