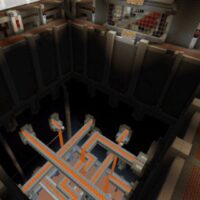 Story Mode Map for Minecraft PE
Version MCPE: 1.16.0 - 1.20.41
Download
Download Story Mode Map for Minecraft PE: Explore unique locations where players are waiting for new dangerous challenges, parkour tracks, and many amazing discoveries.
What is interesting in Story Mode Map?
An excellent opportunity to have fun and have fun with friends is Story Mode Map. At these places, the creators have prepared a lot of interesting tasks for Minecraft PE players.
The heroes will be asked to test their ingenuity, as well as physical abilities, and try to survive in more difficult, but very unusual conditions.
Kit PVP
A full set of all kinds of entertainment for Minecraft PE heroes is presented on this Story Mode Map. Several sets for multi-user interactive use. As well as short games and other tests, were prepared by the authors this time.
It is worth noting that the participants will not be bored. By the way, the number of players must be more than three.
Jailhouse Block
By installing this add-on for Story Mode Map, players will be taken to a very unusual correctional facility. There are a lot of levels and cells for prisoners, as well as the mysterious prison block X, in which lava flows everywhere. It is simply impossible to escape from this place.
Minecraft PE heroes can try on completely different roles. For example, to become a boss and settle in a large office with glass walls that allow you to always monitor what is happening around you.
This room also has chests with various valuables and a variety of armor.
Parkour Story Mode
Parkour-style tests on Story Mode Map will allow users to show all their abilities in dexterity, as well as the ability to make quick decisions. Be sure to invite your friends to fight and spend time together as much fun and interesting as possible.
The location is very diverse and offers challenges for any level of training. Thus, it will be interesting for any Minecraft PE users.
How to download Story Mode Map?

Tap the file and open it in Minecraft PE.

Can I use this map with my friends?

Yes, the map can be used for a multiplayer game.

Can i use the map in the survival mode?

Yes, the map is suitable for the survival mode.
Download Story Mode Map for Minecraft PE