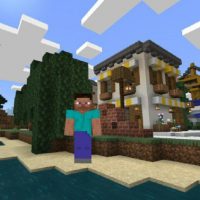 Pokemon Map for Minecraft PE
Version MCPE: 1.12.0 - 1.20.31
Download
Download Pokemon Map for Minecraft PE: explore a new city, participate in battles, and visit memorable places from the famous computer game.
What is unique in Pokemon Map?
The adventures of fantastic creatures who fight among themselves, and coaches who help them improve their skills, have long captured the whole world. Now Minecraft PE users can also travel between famous locations, as well as arrange real battles.
Pokemon Map is a great opportunity to combine a cubic world with famous locations from this amazing story. Start your adventures right now.
Pokemon Battles
The author of this add-on for Pokemon Map offers Minecraft PE players the opportunity to try their hand at fighting these incredible creatures. Of course, you will need to do this not personally, but act as a coach and send your Pokemon to fight with other characters.
It is worth noting that each of the creatures received a unique set of movements. By the way, the developer warns that after the defeat, the recovery function is not provided.
Gold World
This time, one of the popular computer games was taken as the basis for the update for Pokemon Map by the author. In it, the characters live in the so-called regions. Two of them, Kanto and Johto, are available to visit.
Minecraft PE players can travel between them by train or SS Aqua. You can visit memorable places from the history of the same name.
PokeCraft Adventures
On the territory of this map, players will find many buildings, such as a mill, a lighthouse, and a laboratory. By the way, the author of Pokemon Map offers to visit special battle arenas where characters can show all their abilities.
This is a real Pokemon city, which is now also available for Minecraft PE users. The unique location also has several Easter eggs that only the bravest players will be able to find.
How to download Pokemon Map?

Tap the file and open it in Minecraft PE.

Can I use this map with my friends?

Yes, the map can be used for a multiplayer game.

Can i use the map in the survival mode?

Yes, the map is suitable for the survival mode.
download anchor
Download Pokemon Map for Minecraft PE