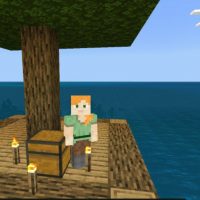 Ocean Explorer Map for Minecraft PE
Version MCPE: 1.11.0 - 1.20.41
Download
Download Ocean Explorer Map for Minecraft PE: embark on a journey and find treasures and other valuables in underwater spaces.
What is interesting in Ocean Explorer Map?
Exploring the water expanses is very exciting, but at the same time extremely dangerous. This is because limited resources coexist with constant danger. Firstly, a Minecraft PE player may die from a lack of oxygen.
But besides this, there are many dangerous creatures around, who are just waiting for the victim to descend to them. Therefore, Ocean Explorer Map is suitable for the bravest heroes who are not afraid to face different dangers.
Water Block
This add-on for Ocean Explorer Map is a redesigned version of the famous type of game. This time the player will not be at a height, but in the middle of an endless ocean and this will be a real test for him.
Limited food and land also the constant threat to life will force you to look at the game process in a new way and perhaps teach the Minecraft PE hero something completely new.
The authors carefully placed a chest at each location. In it, players will find a small number of resources that will not be superfluous. By the way, players themselves can choose the territory where they will cope with the tests.
Sea Survival
At this location, the Minecraft PE player also ends up on a small island that is located in the middle of the ocean. There is only one tree and a chest on it. There are other islands in the distance, but it will not be so easy to get to them without special equipment.
After all, as soon as the hero sinks into the water, dangerous creatures begin to swim up to him. But even without them, the health reserve is rapidly decreasing. But there is something to see in the underwater world of Ocean Explorer Map.
Amazing fish and plants, as well as the chance to find lost treasures, create an atmosphere of exciting adventure.
How to download Ocean Explorer Map?

Tap the file and open it in Minecraft PE.

Can I use this map with my friends?

Yes, the map can be used for a multiplayer game.

Can i use the map in the survival mode?

Yes, the map is suitable for the survival mode.
Download Ocean Explorer Map for Minecraft PE