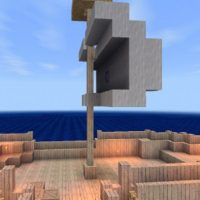 Buried Treasure Map for Minecraft PE
Version MCPE: 1.4.0 - 1.20.41
Download
Download Buried Treasure Map for Minecraft PE: go in search of riches and let luck and ingenuity help in this matter.
What is interesting in Buried Treasure Map?
Buried Treasure Map offers players to become the real riches hunters. Go in search of mysterious jewels and get unprecedented riches. Of course, in order to find it, you will have to be smart and patient.
This update is specially created for those Minecraft PE players who want to try their luck. Find chests that will contain valuable items, in the future they can be exchanged for improved weapons or armor.
Players will have an unforgettable journey that will be filled with dangers and difficulties, but in the end the reward will be really worthwhile.
Treasure Hunt
The main goal of this test will be to find and dig up riches chests that have been buried deep underground. It is worth noting that this update for Buried Treasure Map is perfect for both playing alone and playing with friends.
The location features fully automated gameplay. As soon as the player is ready, he will need to find the Shulker Box. Among other things, there will be fireworks in it. He will help the Minecraft PE hero teleport and start searching.
There will also be several huts of the traders on the territory, with which it will be possible to exchange. For example, instead of gold, improve your weapons and get new items.
The Seeker
This time the jewels seeker will find himself in a museum, having made his way into which he can find an amazing riches. But it will not be easy to do this, because a variety of traps and obstacles are waiting for him in every room.
The authors of Buried Treasure Map have tried to create an interesting adventure, at the end of which the player will receive a wonderful reward. Minecraft PE heroes will have to look for various levers and other devices that will open access to the following rooms.
How to download Buried Treasure Map?

Tap the file and open it in Minecraft PE.

Can I use this map with my friends?

Yes, the map can be used for a multiplayer game.

Can i use the map in the survival mode?

Yes, the map is suitable for the survival mode.
Download Buried Treasure Map for Minecraft PE