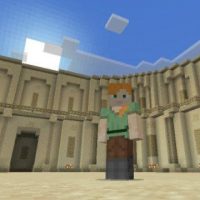 Avatar Map for Minecraft PE
Version MCPE: 1.16.0 - 1.19.63
Download
Download Avatar Map for Minecraft PE: feel like a real Avatar and win a difficult battle.
What is interesting in Avatar Map?
Avatar or Legend of Aang is a popular animated series that borrows elements from anime. The earth is divided into four nations, according to the plot. Each of them has unique abilities. They can use the elements and therefore call themselves magicians.
Minecraft PE players in Avatar Map will be able to get into this amazing world and fight mobs or players in the legendary Arena.
Main Features
At the beginning of the game, the hero can choose one of the four elements. Each of which will give special abilities and skills in combat with opponents.
The users will have access to such skills as a double jump or a burst of fire, as well as a water shield. Players can be used this in battles with other players or with mobs.
It is worth noting that the hero can pump his skills and thus increase their strength.
Any Minecraft PE user can now become an Avatar together with Avatar Map. Amazing abilities that the hero will receive will help him in battles with opponents.
In addition to the arena, there is another location on the map, this is the City. It is available for players to explore and it is a great opportunity to play with friends.
In the City, users can find secret eggs. Players can arrange a competition to see who will find these Easter eggs more. An amazing adventure awaits right now.
Graphics
Separately, it is worth noting the amazingly beautiful graphics in Avatar Map. The developers really paid special attention to the visual component, because it is an integral part of any adventure.
Incredibly soft lighting and realistic textures create an amazing atmosphere in the world of Minecraft PE.
Now the player can only survive in a difficult battle with the enemy and increase their skills. A great opportunity to spend time usefully and also very interesting.
How to download Avatar Map?

Tap the file and open it in Minecraft PE.

Can I use this map with my friends?

Yes, the map can be used for a multiplayer game.

Can i use the map in the survival mode?

Yes, the map is suitable for the survival mode.
Download Avatar Map for Minecraft PE