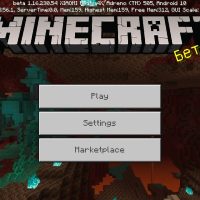 Minecraft PE 1.16.230.54
Download Minecraft PE 1.16.230.54
Download
Download Minecraft 1.16.230.54 full version: encounter the slippery axolotl, grow the glow berries or find the deepslate!
Minecraft PE 1.16.230.54 – What's new?
The MCPE 1.16.230.54 update series is an actual holiday for fans of the cube game due to many different changes and new things. So, in this update, you encounter axolotls, moss blocks, deep shale, and also reprocessed cave vines!
Besides that, the developers have fixed many annoying bugs, that the gaming community complained about.
Glow berries
This plant will add to the existing food list of MCPE 1.16.230.54. Now players can try to eat attractive exotic glow berries found in lush caves. Berries will grow exclusively on luminous lichen. They can also be produced independently.
Besides, you can easily feed wild foxes by the magnificent glowing berries to tame them if you want to.
Axolotl
A new mob can be found in the magnificent caves of the world Minecraft PE 1.16.230.54. Axolotl is capable of both terrestrial and underwater life. This animal attacks all kinds of fish, squid, and guards.
If the mob has done serious damage, he can pretend to be dead and then resume his health. Unfortunately, you can't tame the axolotl, but you can breed with tropical fish. You can also catch an animal by using a bucket.
Cave vines
This version of MCPE 1.16.230.54 has few light-emitting plants, and there another one – cave vines also appeared in the game. The vines will hang from the ceiling and illuminate the players with weak but pleasant light.
They will also produce edible light berries to grow in your garden.
Deepslate
Now it generates a deep block underground in the upper world. In Minecraft PE 1.16.230.54, deepslate is very similar to stone: blocks have the same strength properties. Also, this block has beautiful dark texture.
If you use a pickaxe on shale, it will be dropped to the player as an object. You can also burn the block and get a shredded shale.
Can I tame a goat in MCPE 1.16.230.54?

No, you can only milk it.

What do I do with a goat horn?

You can utilize it to produce raid sounds.

What do I need to collect powder snow?
download anchor
Download Minecraft 1.16.230.54