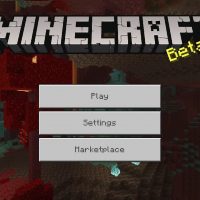 Minecraft PE 1.16.220
Download Unblocked
Download
Download Minecraft PE 1.16.220 on Android full version: encounter cute Azalea trees, cave vines with glow berries and Axolotls!
What's new in Minecraft PE 1.16.220?
This version of MCPE 1.16.220 has continued the game's significant changes that started several announcements ago.
In this update, players will be able to experience climbing, collect bright berries, come across a beautiful Azalea tree, or even find a big dripleaf block!
The game also features deepslate – a new type of stone in addition to axolotls.
Axolotls
Now in Minecraft PE 1.16.220, the player has allies in underwater space – axolotls. They attack hostile mobs underground. Also they can pretend to be dead. If you kill the mob that the Axolotel has been fighting, you can get the regeneration effect.
Azalea Trees
The long-awaited tree, which was announced several times ago finally appeared in MCPE 1.16.220. Now you can navigate by the Azalea plant to discover the location of a lush cave. Besides, the developers said that there would be two types of blocks: flowering and ordinary Azalea.
Cave Vines
This version of Minecraft PE 1.16.220 became very rich in light-emitting plants, as cave vines also appeared. The vines will hang from the ceiling and illuminate the players with weak but pleasant light. They will also produce edible light berries that can be grown on their own.
Glow Berries
The glow berries in MCPE 1.16.220 are the most delicious change in this update. They will grow on glowing vines, further illuminating lush caves' atmosphere. You can also try to grow them on your land and feed foxes by them.
Dripleaf Blocks
These blocks in Minecraft PE 1.16.220 will have unique properties. Dripleaf blocks will drip drops of water if a player or a creature stands on them.You can also make a large block of two small ones if you want to craft some.
Mountains
In the MCPE 1.16.220 version of MCPE, biomes have become enormous. Users will now be able to encounter huge mountains.
The world's height has been raised to 320 blocks making it possible to add a unique and unimaginable generation that you have not seen before.
Can I tame a goat in MCPE 1.16.220?

No, you can only milk it.

What do I do with a goat horn?

You can utilize it to produce raid sounds.

What do I need to collect powder snow?
Download Minecraft 1.16.220