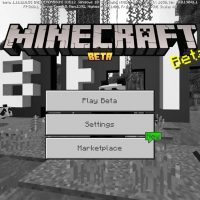 Minecraft PE 1.16.210.55
Download Unblocked
Download
Download Minecraft PE 1.16.210.55 Nether Update for free on Android: countless bug fixes, unique powder snow you can fall directly through, and insolent mountain goat butting you all over the rocky places.
What is new in MCPE 1.16.210.55?
Developers from Mojang Studios have once again dedicated an entire update to guarantee no user suffers any issues during its gameplay.
And they've done incredible work since it is officially reported Minecraft PE 1.16.210.55 has fewer crash reasons. Optimization is another vital aspect devs worked on.
Notwithstanding the said, this semi Nether, semi Caves & Cliffs update has brought one new block and an animal to this sandbox survival.
Goats & Horns
The mountainous regions all around the Overworld have been significantly updated, although they do not yet feature improved generation and extraordinary views.
MCPE 1.16.210.55 users will encounter and get to know another livestock that cannot be tamed anyway. Goats prefer solitude on high rocky peaks, where no one can possibly find and irritate them.
On the other hand, cows, llamas, and nearly all hostile creatures appear there, even though goats would not like them to.
Thence bucks have enormous horns to fight off and protect themselves from all kinds of danger. Mountain goats even dare to punch the players in Minecraft PE 1.16.210.55.
Nonetheless, if slaughtered, horns can be extracted from their dead bodies. There is no proper use for them for the time being, but you may apply it to make raid sounds.
If you place it on a frame, that'll look like a trophy in MCPE 1.16.210.55.
Powder Snow
By the way, mountain goats avoid a new block since they got used to it and know what it does. It appears anyone falls through this tricky block.
There's only one way to stand atop it: craft yourself leather boots and never see yourself in powder snow in Minecraft PE 1.16.210.55.
This item is collectible only using empty buckets.
Can I come across a goat in tundra or taiga in MCPE 1.16.210.55?

No, they appear only in the mountains.

Can I craft a horn?

You can only acquire it by killing or tricking a goat.

Do villagers accept goat horns?

They do not accept it yet.
Download Minecraft 1.16.210.55