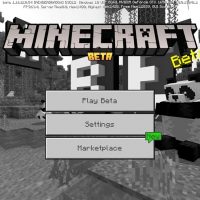 Minecraft PE 1.16.210.54
Download Unblocked
Download
Download Minecraft 1.16.210.54 Nether Update for free on Android: powder snow to fall through, goat to be butted by, and more technical improvements.
What is new in MCPE 1.16.210.54?
Minecraft PE 1.16.210.54 is yet another update whose primary focus is once again stability and optimization. Developers are trying their best to ensure the perfect gaming experience.
Powder Snow
Despite being primarily concentrated on technical issues, MCPE 1.16.210.54 has numerous unique additions standing out from others.
For example, powder snow is yet another block of snow with nearly the same texture but a completely different use and behavior.
It seems one falls right through it, making it act like a cobweb. The only deviation is that your falling will be faster that you might not even comprehend.
On the other hand, you can solve this teensy trouble by wearing leather boots. This armor set has its use in Minecraft 1.16.210.54 finally.
Besides, if a skeleton or a zombie picks up hide shoes, they shall not fall through either. Hence there is a reason for players to craft this previously useless item.
Freezing
Moreover, leather armor protects Minecraft Bedrock Edition 1.16.210.54 users from getting cold and die in powder snow. It appears the longer one stays in powder snow, the more damage one takes every second.
You can determine it by elegant freezing effects all around your screen. Another fascinating fact states that mountain goats, a freshly-added creature, avoid powder snow in order to survive.
They have been here too long, so they got adapted to stop perishing in Minecraft PE 1.16.210.54.
Mountain Goats
Mojang Studios also allowed a new mob to be involved in the Caves & Cliffs update. Mountain goats spawn only in rocky biomes where there's enough grass to chew and snow to sleep on.
These mobs are neutral indeed and will not attack anyone on their own. However, MCPE 1.16.210.54 players and ordinary living beings can get butted.
If goats accelerate, miss the target, and hit the rock, they'll drop a horn. Use it to make raid sounds.
Can I tame a goat in MCPE 1.16.210.54?

No, you can only milk it.

What do I do with a goat horn?

You can utilize it to produce raid sounds.

What do I need to collect powder snow?
Minecraft 1.16.210.54 Download