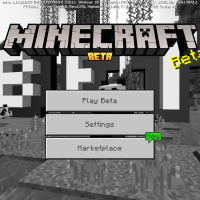 Minecraft PE 1.16.210.50
Download Unblocked
Download
Download free Minecraft 1.16.210.50 APK: new dripstone mechanics, updated stones, and fixed mountain goats alongside dangerous powder snow.
What is new in MCPE 1.16.210.50?
Developers have introduced new content to change the upcoming caves making them more vibrant and exciting to explore.
For instance, Minecraft Bedrock Edition 1.16.210.50 has changed goats slightly: they are now smarter and more useful. They drop horns more frequently now.
Goats dropped their trophies quite seldom, which turned out to be a mistake. Therefore all cherished hunters shall be able to gain their fame faster and killing fewer animals.
Dripstone blocks
The upcoming Caves & Cliffs update is to add new cavern biomes alongside other unique and game-changing features.
Dripstone Caves is one of the forthcoming areas where users come across stalagmites and stalactites. These formations constitute real danger indeed in Minecraft PE 1.16.210.50.
For instance, if you fall on a stalagmite, you will experience unpleasant feelings or maybe even die. On the contrary, a falling stalactite is capable of killing users and other mobs if it lands right upon you.
However, if it grounds beside you, you can grab Dripstone and use it to build up defenses all-around your house in Minecraft 1.16.210.50. When placed on a ceiling, it becomes a stalactite since it hangs tightly.
Sculk Blocks
Mojang Studios additionally introduced new Redstone-related blocks in MCPE 1.16.210.50. Sculk blocks do not appear naturally yet but will in the future.
One obtains it from Creative Inventory. It senses vibrations coming out from placing and breaking blocks, movements, and even shooting. This is a vital navigating tool for the Warden. He is not yet present in the game.
However, one may use Sculk Sensors in its Redstone contraptions to make intricate and wireless circuits.
Generally, this nasty and creepy-looking block may change engineering in Minecraft 1.16.210.50.
Can I tame a goat in MCPE 1.16.210.50?

No, you can only milk it.

What do I do with a goat horn?

You can utilize it to produce raid sounds.

What do I need to collect powder snow?
download anchor
Download Minecraft 1.16.210.50