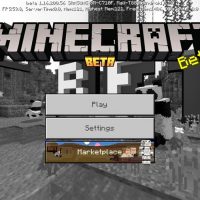 Minecraft PE 1.16.200.56
Xbox Live
Download
Download Minecraft 1.16.200.56 Nether Update for free on Android: parity enhancements, gameplay optimization, and countless bug fixes.
What is new in MCPE 1.16.200.56?
Developers have been trying to put an equation sign between Bedrock and Java versions of the game for a long time.
Minecraft PE 1.16.200.56 takes the next step in this direction, featuring vital changes that may overhaul some mobs and blocks.
Enhancements
For instance, a Basalt block can no longer be destroyed by Ghast fireballs, meaning it serves as an excellent material to build a safe and secure Nether base.
Furthermore, you will also spend more time demolishing this structure because it has got more robust with time in Minecraft Bedrock 1.16.200.56.
On the other hand, many notorious griefers have tried destroying other users' Dragon Eggs with TNT explosions, which always results in the egg's crack.
However, their attempts will no longer work since developers made eggs durable enough to persevere the biggest detonation you can set up in MCPE 1.16.200.56.
General bettering
Still, many most lavish users missed the Founder's Cape, but it had returned with this version's release. You can find it in the Character Creator menu with many other customizable bodyparts.
On the contrary, there is now a limitation to the number of messages sent per second in Minecraft PE 1.16.200.56, so the GUI would not delay.
Moreover, powder snow is no longer transparent when looking from the clouds. Users reported this strange but significant issue.
Mountains will soon be so tall that they will scrap the skies, and their peaks will be beyond the vapors in MCPE 1.16.200.56.
Besides, you can now freeze to death if you stay for too long in powder snow. Notwithstanding, there's a way to fight this quandary: hide armor.
It seems the more leather things you put on, the longer you can stay in powder snow without taking damage. It even works with other mobs.
The zombies with fur armor will take no damage as well in Minecraft 1.16.200.56.
Where do I find goats in MCPE 1.16.200.56?

These intricate mobs inhabit mountains.

Why would I need a bucket of powder snow?

You may use it in your buildings.

Does powder snow reduce the fall damage?

Yes, it does act like water.
download anchor
Download Minecraft 1.16.200.56