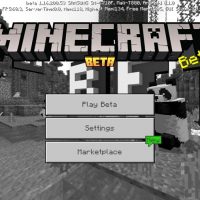 Minecraft PE 1.16.200.53
Download Unblocked
Download
Download Minecraft 1.16.200.53 Nether Update for free on Android: new music settings, numerous improvements, and more.
What is new in MCPE 1.16.200.53?
Minecraft PE 1.16.200.53 will be able to experience something completely new and exciting. Mojang Studios has put most of its effort to make the game more stable and less laggy.
Sound Settings
Bedrock Edition had poor sound settings prior: you could increase or decrease General & Music volume. However, it is about to end in MCPE 1.16.200.53.
Developers have introduced more enhanced and acute sound settings, meaning you are free to control a dozen different parameters.
For instance, there is Master Volume to turn down the game's sounds in general. Yet, if friendly or hostile creatures are too loud or too silent, you can change it as well.
Totally, there are Music, Sound, Ambient, Players, Jukebox, and Weather music settings in Minecraft PE 1.16.200.53.
Goat Improvements
Furthermore, devs introduced various vital enhancements to the freshly-added mob. Baby goats will no longer jump as high as their parents.
It was quite an odd performance when little bucks could get up on five-block high platforms. Furthermore, mountain goats will try to avoid magma blocks since they hurt animals MCPE 1.16.200.53.
There was also a severe problem with these mischievous mobs: they got stuck in the grass and flowers. Eventually, they kept standing there forever.
Powder Snow
On the other hand, there's powder snow. It is notorious since it is usually used in numerous contraptions. You fall right through it.
However, there is a solution to this danger: wearing leather boots will allow you to walk on powder snow in Minecraft PE 1.16.200.53.
It even works with other mobs. For instance, if a zombie or a skeleton has fur boots on, they won't fall through too.
Where do I find goats in MCPE 1.16.200.53?

These intricate mobs inhabit mountains.

Why would I need a bucket of powder snow?

You may use it in your buildings.

Does powder snow reduce the fall damage?

Yes, it does act like water.
download anchor
Download Minecraft 1.16.200.53