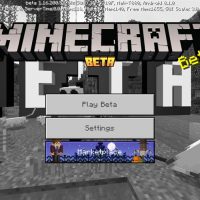 Minecraft PE 1.16.200.52
Download Unblocked
Download
Download Minecraft 1.16.200.52 Nether Update for free on Android: mountain goats, powder snow, numerous improvements, and additional blocks.
What is new in MCPE 1.16.200.52?
Swedish developers from Mojang Studios have introduced multiple unique and bizarre-looking blocks to make the game's caves more intriguing and exciting to visit and explore.
Minecraft PE 1.16.200.52 features sculk blocks and powder snow. Besides, dripstone is present henceforth as well.
Goats
Although rocky and rugged areas have not been yet updated, MCPE 1.16.200.52 already has the mountains' future aspects.
For instance, you will undoubtedly encounter odd and a bit chaotic goats that inhabit this biome. They love to chew grass and butt some random user.
Goats are not keen on conversations, so it would be safer for you if you avoid them. On the other hand, players can milk but not tame or mount them in Minecraft PE 1.16.200.52.
Furthermore, goats drop horns if they hit a block or slain by users. One uses it to make an illager raid attack. It serves no other purpose for the time being.
Powder Snow
Another unique block was added so users could build more intricate and dangerous traps. Powder snow can be found exclusively in a mountainous area where it snows all the time.
However, MCPE 1.16.200.52 players won't be able to grab powder snow even using a shovel. It appears powder snow can only be collected with a bucket.
Therefore it'll take you a lot of time to cross mountains in this hardcore sandbox survival. Yet, there's a solution: wear leather boots, so you don't fall through powder snow.
Besides, if one stays in powder snow for too long, it risks getting frozen and dying. A full leather armor set will help you out in Minecraft PE 1.16.200.52.
By the way, the freezing effect applies on other mobs as well, but goats got used to it, so they easily bypass powder snow.
Where do I find goats in MCPE 1.16.200.52?

These intricate mobs inhabit mountains.

Why would I need a bucket of powder snow?

You may use it in your buildings.

Does powder snow reduce the fall damage?

Yes, it does act like water.
download anchor
Download Minecraft 1.16.200.52