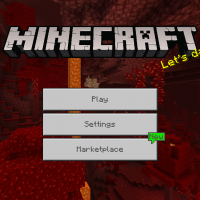 Minecraft PE 1.16.100
Download Minecraft PE 1.16.100
Download
Download Minecraft PE 1.16.100 full version: use new blocks, try to find a goat horn and even encounter exciting mountain goat!
Minecraft PE 1.16.100 – What's new?
Developers Mojang Studios released the last part of the Nether Update. In Minecraft PE 1.16.100 they first did a lot of work on bugs.
You can find all the innovations of the Lower World in previous versions of MCPE. Also in the game you can now meet such an interesting mob as a mountain goat.
Blocks
You don't forget the appearance of powder snow in the Minecraft 1.16.100.
This block is almost the same as the usual snow. But in this case, the user may fail in the soft snow, after which the user will slow down.
A snow fog will also be displayed around the player. With the help of powder snow, various traps can be arranged. So far, this block is only available in the Creative inventory.
Goat horn
When a mountain goat dies in Minecraft PE 1.16.100, only the goat's horn can fall.
The goat horn itself has no particular functionality. It only makes a sound similar to the sound of a raid on a village. This item is only available in experimental mode.
Mobs
With the release of Minecraft 1.16.100, the game world was replenished with one new creature, a mountain goat. It lives in mountain biomes and can climb almost any altitude. And helps it in that altitude of its jump. The mob can also kick the user and any other mob.
A mountain goat is the first mob in the game from which you can get more than one cub at a time.
This creature has only five hearts of life, which is quite small. You can also tie an animal with a leash if you want and lead it.
Audio
Now users of MCPE 1.16.100 have the ability to tune any game sounds.
To do this, go to the appropriate settings in the main menu. Ten different options are available. Here you can configure weather sounds, player, various mobs, blocks and more.
Who are the Piglins?

It's a neutral mob of hell armed with a crossbow or a golden sword.

How do I tame a strider in Minecraft PE?

You have to lure it with a distorted mushroom and then put on a saddle.

How to trade with piglins in MCPE?

You need to give a pyglin gold bullion, then he'll give you a random object.
download anchor
Download Minecraft 1.16.100