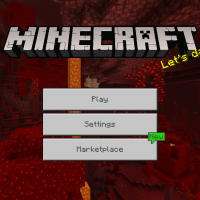 Minecraft PE 1.16.100.55
Download Minecraft PE 1.16.100.55
Download
Download Minecraft PE 1.16.100.55 full version: hurry up to the new Nether World!
Minecraft PE 1.16.100.55 – What's new?
The Nether World is a dimension that has hardly changed since its inception. But with the Nether Update of MCPE 1.16.100.55, the world has completely changed. And now, there are new biomes, blocks, and mobs.
Distorted forest
The most mysterious location in Minecraft PE is 1.16.100.55, which is covered in blue. The deformed forest is tranquil. It is mainly inhabited by Edge travelers who are safe for the player if not looked in their eyes. Less frequently seen in this area are striders, the only tame creatures in Hell.
There are also distorted mushrooms in this forest. You can use them to scare off hoglins and tame striders. By the way, Striders can walk on lava. Therefore, if the user tames the mob, he can cross the lava lakes without much effort.
To control the strider, you need a rod with a distorted mushroom.
Mobs
In MCPE 1.16.100.55, there are five new mobs. Among them is a mob called Hoglin. It's a pretty big creature that lives in the purple forest.
When you die, you lose meat. So you can get food right in the Lower World without leaving it.
Hoglins can be multiplied and frightened away. They treat the player significantly negatively and attack him immediately.
Minor fixes
In addition to new mobs, Minecraft PE 1.16.100.55 also features bug fixes. For example, small zoglins now have cute big heads. Also, foxes no longer suffer damage from falling on berries.
Bastion remnants
This structure is huge in Minecraft Pocket Edition 1.16.100.55. The bastion remnants are generated only in Hell and can often be found among the hellish stones. This structure contains numerous rooms and a treasure trove.
You can find boxes of valuables in the rooms. But they are guarded by brute piglins. It's a more violent type of piglin that attacks much more aggressively.
Besides, they have the most significant number of lives among all the inhabitants of the Nether World.
Who are the Piglins in MCPE?

It's a neutral mob of hell armed with a crossbow or a golden sword.

How do I tame a strider in Minecraft PE?

You have to lure it with a distorted mushroom and then put on a saddle.

How to trade with piglins?

You need to give a pyglin gold bullion, then he'll give you a random object.
download anchor
Download Minecraft 1.16.100.55