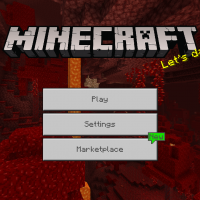 Minecraft PE 1.16.0.68
Download Minecraft PE 1.16.0.68
Download
Download Minecraft PE 1.16.0.68 full version: new mobs, various minor changes, and improvement of the entire gameplay are waiting for you in Nether Update!
Minecraft PE 1.16.0.68 – What's new?
The development team at Mojang Studios released a beta build Minecraft PE 1.16.0.68 Nether Update. In this update, Mojang decided to introduce several new mobs and improved the overall gameplay associated with the Nether Update.
Piglins
Piglins are an unusual, pig-faced creature that replaces a zombie pig-man from previous versions. They use a new trade mechanic to exchange items with the player in exchange for gold bars.
There are some difficulties if you want to walk past the piglins from MCPE 1.16.0.68.
The point is, if you're not outfitted in a golden set of armor, they will strike at you with their wrath. The same will happen if you try to open the chest under their supervision.
Hoglins
The Hoglins are huge mobs from the Nether Update Minecraft PE 1.16.0.68 that will be waiting for you in the crimson forest.
The main feature of the Hoglins is that they are hostile to players but are the only source of food in the Nether World.
Hoglins, like piglins, can become zombified if they enter the Upper World and become hostile to all mobs.
Netherite
After the release of MCPE 1.16.0.68, the diamond ceased to be the toughest material in the game. It was replaced by new material, the Netherite.
To update the diamond item, you must connect it with the ingot of netherite. 
Strider
Strider is another type of unusual cubic mob from the Nether Update Minecraft PE 1.16.0.68. Striders can be found on the banks of lava oceans, as well as in the basalt delta.
We advise you not to lose sight of Strider because using special objects you can ride it and navigate the lava without getting any damage.
To control the Strider, you have to find and create a rod with a distorted mushroom and a saddle.
Who are the Piglins in MCPE?

It's a neutral mob of hell armed with a crossbow or a golden sword.

How do I tame a strider in Minecraft PE?

You have to lure it with a distorted mushroom and then put on a saddle.

How to trade with piglins?

You need to give a pyglin gold bullion, then he'll give you a random object.
download anchor
Download Minecraft 1.16.0.68