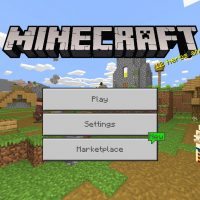 Minecraft PE 1.13.0
Download Minecraft PE 1.13.0
Download
Download Minecraft PE 1.13.0 full version: Play with foxes, fungus cows, command blocks, and other significant changes!
Minecraft 1.13.0 – What's new?
The full version of MCPE 1.13.0 is a game with new mobs, blocks, improved gameplay.
There are minimal errors, as the emphasis of Mojang developers were on the technical part of the game!
Foxes
These are night passive mobs in Minecraft PE 1.13.0, which are primarily regenerated in the taiga of any species. They have the same behavior as ocelots. They attack chickens, rabbits and fish.
At the same time, before the attack, they have a unique technique: they tilt the head and the body downwards for a high jump of 2 to 5 blocks. Foxes are mostly active at night and sleep during the day.
Brown cows
Brown cows are cows that are covered in brown mushrooms. Live in a mushroom biome, have ten health units, and are passive. Just like the red mushroom cow.
Lightning strikes from a mushroom cow cause brown cows in Minecraft Bedrock Edition 1.13.0.
If you want to see it all, turn on the rainy weather and damage the weapon enchanted on the «conductor.» Then lightning will strike a cow, and the process of transformation will begin.
Structural blocks
Structural blocks are the ability to build structures in MCPE 1.13.0 manually. Essential modes have appeared in the update, namely booting and saving.
Now you can copy and save it to any place or download the finished structure to your device.
Import and export regimes are available only on a trial basis.
Wither Rose
This flower is unique in itself, as all plants only produce a desiccation effect in Minecraft 1.13.0. To get this rose, you'll have to go to hell because that's where the flowers grow.
Unlike other plants, a desiccant rose has several options for use. For example, you can use it to make a black dye or make a stew.
Character Editor
A character editor is a built-in tool that replaces the usual selection of skins and adds an edit function in Minecraft Pocket Edition 1.13.0.
This is a very convenient feature, as you don't even have to leave the game to modify the skin.
To do this, go to the tab «Profile» and select the skin you want to edit. Editing includes changes in the face, hair, size, etc.
Can I tame a fox in MCPE?

How can I see a brown cow?

The mushroom cow must be struck by lightning.

Where can I find Wither Rose in Minecraft PE?

You can get it in the creative or in the Nether.
download anchor
Download Minecraft 1.13.0