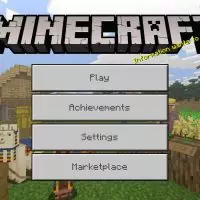 Minecraft PE 1.12.1
Download Minecraft PE 1.12.1
Download
Download Minecraft PE 1.12.1 full version: Command blocks, the radius is spacious, particles, and much more!
Minecraft 1.12.1 – What's new?
Finally, Mojang developers released the following version from the Minecraft PE 1.12.1. In this update, they greatly expanded the possible functionality in various additions.
You can also encounter new and unique mobs that roam the expanses of cubic biomes!
Command blocks
Now map builders do not have to bother with repeaters to realize delays.
This can be done directly in the command unit itself. You have to write the required number of bars in the appropriate field.
If you enter a command unit while traveling, its interface closes automatically after a while in MCPE 1.12.1
Minor fixes
In addition to the command blocks, the Minecraft Pocket Edition 1.12.1 features other blocks. For example, the seawater texture is now more consistent with the Java Edition texture.
And for newcomers, hints were added on the use of the pulpit and the cartographic table.
Camera
This new development in Minecraft PE 1.12.1 makes every long-time player remember the earliest versions of the game.
The camera made it possible to take different photos and save them on the device. However, this object has no functionality for the time being and is not in the inventory of Creativity.
It looks like a 19th-century camera.
Mobs
In Minecraft 1.12.1, this shortcoming was corrected. There is also a sound that will tell the player that the resident does not want to trade.
This can happen, for example, during raids.
Skin Editor
A character editor is a built-in tool that replaces the usual selection of skins and adds an edit function.
This is a very convenient feature, as you don't even have to leave the game to modify the skin in Minecraft Bedrock Edition 1.12.1.
To do this, go to the tab «Profile» and select the skin you want to edit. Editing includes changes in the face, hair, size, etc.
Can I take pictures with a camera in MCPE?

Can I change a hair in Minecraft PE?

Yes, you can do it with Skin Editor.

What does the camera look like?

It looks like a 19th-century camera.
download anchor
Download Minecraft 1.12.1