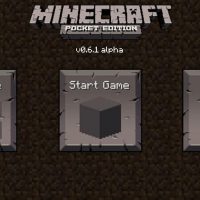 Minecraft PE 0.6.1
Download Minecraft PE 0.6.1
Download
Download Minecraft PE 0.6.1 for Free on Android: use signs when creating your own space or map, and also appreciate the updated appearance of the world.
What is interesting in Minecraft 0.6.1?
In this version, the developers of Mojang Studios focused their attention on correcting previously appearing errors. Thus, the gameplay becomes more stable and convenient for players.
From the first minutes of the game, users will be able to notice the changes. The fact is that in Minecraft PE 0.6.1, very beautifully and realistically drawn clouds appear. It should be noted that the appearance of the cubic world directly depends on the performance of the device.
And if it is low enough, then the players will immediately notice it by the changed picture. By the way, players will be able to get acquainted with the cubs of mobs and use a wide variety of blocks from The Nether.
Nether Blocks
Developers continue to expand the capabilities of players by adding new building blocks. In Minecraft 0.6.1, these are items from The Nether. Infernal stone brick and quartz became available to users.
Users can extract the latter from the reactor and create a pylon or steps from it in the future. With each update, there are more and more interesting and convenient items that can be used in the construction process or in survival mode.
Signs
Now players can create a variety of signs in Minecraft PE 0.6.1 to make inscriptions or announcements on them. These items can be used to create various maps.
Also, in order to easily sort items in the warehouse, players can use these useful objects. Thus, another irreplaceable item has been added to the game, which will be widely used by users in the gameplay.
Cubs
In Minecraft 0.6.1, small copies of all existing living creatures appeared, including skeletons and zombies. Now the cubs, as well as adults, will walk all over the terrain of the cubic world.
What infernal blocks are available for players to build in MCPE 0.6.1?

Infernal stone bricks, quartz and many other blocks are available to users.

What kind of mobs appeared in Minecraft PE 0.6.1?

In this version, the cubs of creatures appeared.

What can the signs be used for?

These items can be used when create various maps.