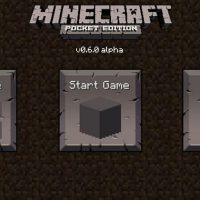 Minecraft PE 0.6.0
Download Minecraft PE 0.6.0
Download
Download Minecraft PE 0.6.0 for Free on Android: get to know baby animals, and also create armor to better protect Steve from dangers.
What is interesting in Minecraft 0.6.0?
The developers of Mojang Studios have once again pleased users with a new large-scale update. Not only new mobs appear in the game, but also their cubs. The defense of the capabilities is expanding, and new equipment and weapons appear.
Also, the changes have a positive effect on the appearance of the cubic world. Clouds in the sky will become more realistic and beautiful. It is worth noting that if there is not enough memory on the device, then the graphics will decrease so that errors and failures do not occur.
Also, Minecraft PE 0.6.0 fixed some bugs related to the incorrect receipt of watermelon and loot blocks during the survival process.
Mobs and cubs
Mobs in Minecraft 0.6.0 fixes affected the appearance of sheep. They changed the texture and began to look more like real animals. Before this version, only adults could be seen in the cubic world, but now players will be able to observe cubs.
They tend to grow, so their appearance will change over time. It is worth noting that not only peaceful creatures got this opportunity. Little zombies and skeletons will also appear everywhere.
Armor
In Minecraft PE 0.6.0, players have the opportunity to create not only weapons and tools but also items of equipment. Users can create armor from iron and leather and put it on the hero.
This will help players better protect themselves when encountering aggressive creatures.
Blocks
Most of the blocks that appeared in Minecraft 0.6.0 are associated with The Nether, which is where players can find, for example, the hell stone. Also in this update, it became available to create plates on which users can make inscriptions or names.
What kind of mobs appeared in MCPE 0.6.0?

In this version, the cubs of creatures appeared.

What protection elements are available to create in Minecraft PE 0.6.0?

Players can create armor.

What infernal blocks are available for players to build?

Infernal stone bricks, quartz and many other blocks are available to users.
download anchor
Download Minecraft 0.6.0