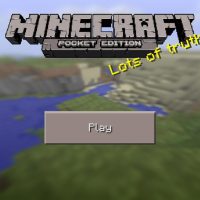 Minecraft PE 0.11.1
Download Minecraft PE 0.11.1
Download
Download Minecraft PE 0.11.1 free for Android: use boats or catch fish, meet incredible creatures and evaluate fixes!
What is new in Minecraft 0.11.1?
With each version, Mojang developers are trying to diversify the world with new creatures and objects. In Minecraft PE 0.11.1 there are many options for interesting adventures. The player can build a boat or make a fishing rod. Spend time fishing or exploring the endless world.
Blocks and items
In Minecraft 0.11.1, players have the opportunity to visit the village and exchange their items for food from local residents.
By the way, now the hero will experience different feelings. For example, hunger appears if he eats raw chicken. Nausea or poisoning can occur if he eats blowfish.
This is one of the types of fish that the player can catch with a fishing rod. It can be created using sticks and threads. Fish now inhabit seas, rivers, or lakes.
There are various tools in the Inventory in creative mode.
Mobs
If the player descends into the dungeons, he can meet new creatures in Minecraft PE 0.11.1. The first of them are bats. They are harmless and just create a more realistic atmosphere.
Other creatures of the underworld are Cave Spiders. They can be quite dangerous for the player, their bite can cause poisoning, beware of them.
Mobs perfectly complement the gameplay and make adventures even more interesting.
Other changes
The developers have added various features that should help players in the process of playing Minecraft 0.11.1. For example, if a player has a bucket of milk, it can remove all effects. You can get it if you approach the cow with an empty bucket.
Also, the hero should be wary of burning mobs, if they hit him, he will also light up.
Wolves can be fed rotten meat, but the player himself should not eat it, it can cause poisoning.
How can i get out of a boat?

It is necessary to reduce the speed, after which the corresponding button will appear.

What items can be used to create a fishing rod?

Sticks and threads will be required.

Is it possible to use multiplayer mode?
Download Minecraft PE 0.11.1