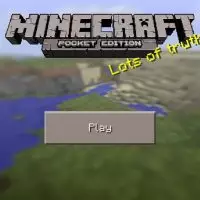 Minecraft PE 0.11.0
Download Minecraft PE 0.11.0
Download
Download Minecraft PE 0.11.0 free for Android: new blocks, unusual items, and incredible creatures!
What is new in Minecraft 0.11.0?
First of all, it is worth noting that the developers have filled Minecraft PE 0.11.0 with interesting items and new features.
Players can create a boat to move quickly through the water. By the way, real fishing rods appear in the game for fishing. They can be crafted from sticks and ropes.
New mobs
New creatures appear in the game, some of them are very friendly, while others can be dangerous. From a meeting with a Cave spider in Minecraft 0.11.0, you should not expect anything good. His bite can cause poisoning. Beware of these creatures when moving underground.
A new inhabitant will also appear in the underwater world – this is an octopus. When dealing with damage, they release the ink. In addition to adults, players can also see the cubs of these creatures.
Blocks
In this version, the developers give players the opportunity to create boats. They can carry up to two players, which allows you to move much faster through the water.
The boats are quite strong and you do not have to worry if she crashes into an obstacle.
In Minecraft PE 0.11.0, new blocks have been added, which are called the grass path. You can do it with a shovel.
Items
Also in the game, there is an opportunity to spend time usefully. A player in Minecraft 0.11.0 can create a fishing rod from a stick and threads. With her help, the hero will be able to fish.
It's enough just to throw a fishing rod into the water and wait for a little. In addition to food, the player can catch garbage or even real treasures.
Another new item in the game is a bucket. If you approach a cow with it, you can get a bucket of milk.
The developers have also fixed all the bugs that may have occurred in previous versions of the game. Incredible adventures are waiting for players right now!
How can i get out of a boat?

It is necessary to reduce the speed, after which the corresponding button will appear.

What items can be used to create a fishing rod?

Sticks and threads will be required.

Is it possible to use multiplayer mode?
download anchor
Download Minecraft PE 0.11.0