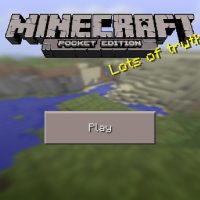 Minecraft PE 0.10.5
Download Minecraft PE 0.10.5
Download
Download Minecraft PE 0.10.5 free for Android: take advantage of new features and create your own unique world!
What is new in Minecraft 0.10.5?
Minecraft PE 0.10.5 has a large number of fixed bugs. Changes can be seen in the appearance of graphics, gameplay, and even the generation.
Mobs
In Minecraft 0.10.5, each creature has a unique walking animation. Mojang developers have tried to make mobs as interesting and unusual as possible.
It should also be noted that mob cubs can now swim. But they also have very dangerous creatures. These are zombie children who spawn much less often than adults, but at the same time, they are very fast and are not afraid of the sun.
Generation
The developers have also made some changes to the world generation process. In the Table Mountains, mines appear right on the surface. A large amount of gold ore can be found in them.  Thus, adventurers get a new motivation to search for these incredible locations.
In Minecraft PE 0.10.5, players can also find huge mushrooms that used to be generated in a Dark Forest. Now, these plants appear in swamps.
When they are hit, small mushrooms fall out of them. If the player cuts down a plant, he can grow a new one.
Graphics
Changes in the graphics component make the world of Minecraft 0.10.5 incredibly beautiful. During sunset, the sky and clouds turn bright orange. At night, the moon appears and a slight glow is noticeable.
Smooth transitions appear on the water, and its color has become darker in the swamp. In general, the graphics have been significantly improved, which makes the world more natural.
By entering the Creative Mode, players can change the meaning of day and night. Each cycle is replaced by the next, as evidenced by the appearance of dawn or sunset.
You can also set your own mode in the settings: always day or always night.
How can get new types of fences?

They can be crafted from different boards.

How can change the brightness in the game?

This feature is available in the settings.

Is it possible to use multiplayer mode?
Download Minecraft PE 0.10.5