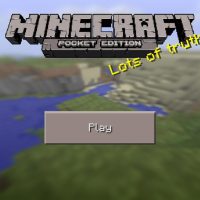 Minecraft PE 0.10.0
Download Minecraft PE 0.10.0
Download
Download Minecraft PE 0.10.0 for free on Android: appreciate the improved graphics quality, a large selection of blocks, and unexplored biomes!
What is new in Minecraft 0.10.0?
The developers paid special attention to the graphics in Minecraft PE 0.10.0. The water began to look more realistic. Its color has become much softer, and a smooth transition appears at the junction of the two biomes. In general, the texture of the water has become lighter and smoother.
Dust particles appear during the fall of dirt or sand blocks.
This is really a very global addition, in which the Mojang developers have fixed the errors of previous versions and added more new items and details.
Mobs
Thanks to the changes of Minecraft 0.10.0, mobs have acquired cubs that have improved characteristics and no longer drown in water.
Each creature has its own walking animation, and slugs got a jump animation.
Players should beware of hostile mobs because now they will spawn in groups. Naturally, this will complicate the process of survival.
Biomes
In Minecraft PE 0.10.0, the changes affected the swamp biome. Walking through it, players can see 2 types of plants, these are fly agaric and porcini mushrooms.
The hero can craft soup from them. Another interesting opportunity appears in this biome – at night the player can grow huge mushrooms, this will require a bone meal.
Majong developers draw special attention to the Table Mountains biome. The fact is that in this area gold ore began to be generated at any height.
This makes this biome truly unique and many will want to find it. Moreover, the mines in the Table Mountains are generated even on the surface.
Blocks
Minecraft 0.10.0 users can now use new blocks, these are fences and gates. They are very useful when building a farm, as they do not allow mobs to jump over them.
Players can choose any option from 6 colors. It is very convenient in different types of terrain.
How can get new types of fences?

They can be crafted from different boards.

How can I change the brightness in the game?

This feature is available in the settings.

Is it possible to use multiplayer mode?
download anchor
Download Minecraft PE 0.10.0