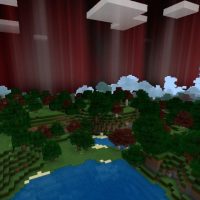 Purple Texture Pack for Minecraft PE
Version MCPE: 1.4.0 - 1.20.31
Download
Download the Purple Texture Pack for Minecraft PE: create a new world that will be remembered for its bright graphics and unusual objects!
Purpled Texture Pack for Minecraft PE
As the name implies, in the Purpled Texture Pack everything around will somehow have shades of purple. At first glance, it may seem that there is nothing special about the fact that some objects or the surrounding world have changed color.
But the developers have tried to make a really unique update for Minecraft PE. And even if the idea of repainting the world seems a little strange, in the end, the players will get a great result.
More color
The developers are well aware of how important it is that there is always a choice and a great variety in the game. After all, when users see the same picture every day, the usual colors, it can quickly get boring.
That is why so important that the new additions are interesting and different from everything that was before.
Changes in the Purpled Texture Pack affected not only the surrounding objects but also mobs. Endermen eyes turned purple. And they themselves will emit particles of the same color. It looks quite unusual.
Also, the pearl and the Edge chest, as well as the portal, received changes. All of them will be painted in the main color of this update for Minecraft PE.
New
In addition to the New Purpled Texture Pack, more items are available to players. The sky of dark red color immediately catches the eye, which is also illuminated by bright rays. It looks pretty impressive.
Users have definitely not seen anything like this in Minecraft PE.
It is worth noting that the interface is also painted in a new way. The buttons in the game have turned purple.
By the way, the player can try on armor or use weapons and tools. It is not difficult to guess that they will also be purple.
Can this texture pack be run in a multiplayer game?

Yes, for this it is enough just to be the owner of the card and install this modification on it.

Can I use it on servers?

Yes, you are free to use it on public servers.

Have weapons chaged their textures?

Yes, they have been altered.
download anchor
Download Purpled Texture Pack for Minecraft PE