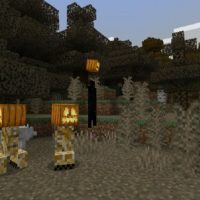 Halloween Texture Pack for Minecraft PE
Version MCPE: 1.12.0 - 1.20.31
Download
Download Halloween Texture Pack for Minecraft PE: feel the holiday atmosphere and celebrate it with your friends.
What is interesting in Halloween Texture Pack?
One of the most beloved holidays not only for all children but also for many adults has long been popular all over the world. And, of course, its unique atmosphere is now available in Minecraft PE.
Players will be able to appreciate the new look of familiar mobs, as well as celebrate this day with friends right in their favorite game. The authors of the Halloween Texture Pack tried to make the whole space incredibly interesting and mysterious.
Holiday
Everyone knows that every year in autumn a wonderful holiday is celebrated, where pumpkins are used in decoration and everyone tries to dress up in the most terrible costumes. Now Minecraft PE users can feel the whole atmosphere of this day without looking up from their favorite game.
In this update for the Halloween Texture Pack, the authors have made the foliage on the trees yellow-orange, which corresponds to the time of year of this celebration. Also, instead of a vine, users can now see a spider web.
It is worth paying attention to the mobs, who also prepared for the celebration. All the chickens have become black and with red eyes, which looks very frightening. And also creepers will have a mask in the form of a carved pumpkin on their face.
Monsters
The authors of this update for the Halloween Texture Pack have tried even more to transform the appearance of the cubic world. In addition, such mobs as creepers and endermen received bright pumpkins instead of the usual head.
Also, all the reservoirs became bright green, and the sky turned orange. In general, the whole cubic world has changed its colors, they have become more yellow, which is obvious because this holiday takes place in autumn.
Minecraft PE players can have fun with friends and appreciate all the changes that have occurred in the familiar space in honor of a fun event.
What if the Halloween Texture Pack does not work?

Try to activate the experimental game mode.

Can I use it on servers?

Yes, you are free to use it on public servers.

How do I install this texture pack?

The file is in .mcpack extension, so just tap on the file to automatically install the modification.
download anchor
Download Halloween Texture Pack for Minecraft PE