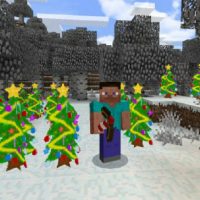 Christmas Texture Pack for Minecraft PE
Version MCPE: 0.16.0 - 1.20.41
Download
Download Christmas Texture Pack for Minecraft PE: arrange a holiday on any day of the year and enjoy its incredible atmosphere and fun.
What is interesting in Christmas Texture Pack?
Without a doubt, the most beloved holiday of all adults and children is now available in Minecraft PE. At the same time, it is not necessary to wait for December to feel all its incredible atmosphere.
Just download the Christmas Texture Pack and enjoy a lot of different decorations. The authors have tried to fully recreate all the attributes of this wonderful day: from elegant Christmas trees to delicious treats and Candys.
Decorations
One of the most fun and anticipated days of the year, but it is so sad that everyone have to wait for it for so long. Now Minecraft PE users can arrange a holiday when they want it.
This update for the Christmas Texture Pack replaces some standard blocks with decorations. For example, cobwebs and torches will now sparkle with cheerful colors. And the iron grill and cocoa beans will become garlands.
Gifts will appear instead of chests, and villagers and zombies will wear red caps on their heads.
More features
This update provides even more opportunities to create a festive atmosphere in Minecraft PE. Players will be able to decorate their homes with festive decorations, garlands, and paintings.
Users will also be able to see fully decorated Christmas trees and the famous striped lollipops all over the cubic world. Naturally, all the trees and the surrounding area will be covered with snow.
The author of the Christmas Texture Pack even added a Santa Claus costume that players can try on themselves, and all standard weapons will look more like toys. All this, together with a lot of bright and cheerful blocks, will help create the atmosphere of the most fun and joyful day of the year.
What if the Christmas Texture Pack does not work?

Try to activate the experimental game mode.

Can I use it on servers?

Yes, you are free to use it on public servers.

How do I install this texture pack?

The file is in .mcpack extension, so just tap on the file to automatically install the modification.
Download Christmas Texture Pack for Minecraft PE