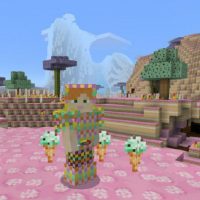 Candy Texture Pack for Minecraft PE
Version MCPE: 1.0.0 - 1.19.83
Download
Download Candy Texture Pack for Minecraft PE: go to a fairyland where everything is made of sweets and lollipops.
What is new in Candy Texture Pack?
Candy Texture Pack will allow you to feel like a real fairy-tale hero. This update will create an atmosphere of childhood and carelessness in Minecraft PE.
Every element of the cubic world will be changed. This is a very interesting and unusual opportunity to diversify the gameplay.
Also, players will be able to change the interface and add brighter and iridescent colors to it, which will help transform the entire game space.
Candy
An incredibly joyful and cheerful atmosphere surrounds the player from the first minutes of being in the game. The authors of Candy Texture Pack have updated every block and object. Instead of flowers and plants, users can see lollipops and sweets.
All mobs in Minecraft PE will become bright and colorful, for example, cows will be painted in all colors of the rainbow. It will be even easier to feel like a hero of a fairy-tale country because even armor and weapons will look so that players will want to eat them.
Players will need a lot of time to study all the changes because there are a lot of them. Houses and blocks, even grass underfoot and leaves on trees will turn into amazing objects from the magical world.
Sweets
In Minecraft PE, players have absolutely no way to change and adjust the interface for themselves. The authors of Candy Texture Pack solved this problem and painted the menu and all windows in multi-colored shades.
This will give the gameplay an incredible atmosphere of joy and happiness. And it will also allow you to diversify the boring and monotonous colors of standard graphics wonderfully. It is very easy to look at the gameplay in a new way – just install this update and you won't want to go back to the previous version.
What if the Candy Texture Pack does not work?

Try to activate the experimental game mode.

Can I use it on servers?

Yes, you are free to use it on public servers.

How do I install this texture pack?

The file is in .mcpack extension, so just tap on the file to automatically install the modification.
Download Candy Texture Pack for Minecraft PE