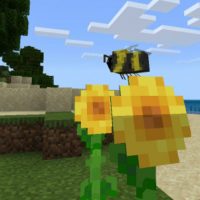 Bee Texture Pack for Minecraft PE
Version MCPE: 1.16.0 - 1.20.31
Download
Download Bee Texture Pack for Minecraft PE: evaluate how these extremely useful insects have transformed, now they will look exactly like real ones.
What is interesting in Bee Texture Pack?
The appearance of these insects in Minecraft PE has opened up new opportunities and activities for players. From that time on, it was possible to find a hive in the forest or make them yourself. Extract honey and use it for food.
The most important rule is not to anger these useful mobs. With the help of Bee Texture Pack, the authors tried to give these creatures a new more realistic look and unique emotions.
Try yourself in a new craft and make friends with these useful creatures that can become assistants for the player.
Main Features
The author of Bee Texture Pack has studied a lot of how these insects look in the real world. It is worth noting that he did a great job of recreating their appearance in Minecraft PE. Mob models have become much smaller.
The thing is that many users wondered why in the cubic world the size of these creatures was extremely exaggerated. They also got a tiny sting and jaws.
Users can only see them when the insect is angry. By the way, it can happen if someone offends her cub. Of course, you do not need to do this on purpose. Because the creature will certainly try to attack the offender.
Graphics
In addition to the fact that the updated creatures in Minecraft PE received a reduced size, sting, and jaws, the author of Bee Texture Pack worked on their animation. Now the animals move more smoothly and believably.
This allows you to give the picture more realism and naturalness. As for the other functions of bees – collecting nectar and creating honey, they remained unchanged. Players will still be able to engage in apiculture.
Create your apiary using the capabilities of these useful mobs and enjoy the amazingly beautiful appearance of the little helpers.
What if the Bee Texture Pack does not work?

Try to activate the experimental game mode.

Can I use it on servers?

Yes, you are free to use it on public servers.

How do I install this texture pack?

The file is in .mcpack extension, so just tap on the file to automatically install the modification.
download anchor
Download Bee Texture Pack for Minecraft PE