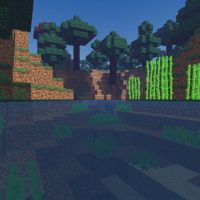 Zebra Shaders for Minecraft PE
Version MCPE: 1.17.0 - 1.20.15
Download
Download Zebra Shaders for Minecraft PE: optimized and affordable graphics changes suitable for devices with any power.
What is interesting in Zebra Shaders?
After installing Zebra Shaders, players will immediately notice how much the surrounding space has changed. It's all about the improved graphics component, as well as the addition of many new visual effects.
At any time of the day and in any weather, the world of Minecraft PE will look incredibly bright and realistic. This will make the adventures in it even more interesting and perhaps inspire the player to new things and ideas.
Graphics
Thanks to the expanded color palette in Zebra Shaders, the cubic world will sparkle with completely new colors and replace gray tones with brighter and more cheerful ones. By the way, the light of the sun and moon will become more saturated and their rays will be reflected from the surface of reservoirs.
As for water bodies, they will become more transparent, and even from the shore it will be possible to see what is happening underwater. The author also decided to transform some natural phenomena. Thus, now in Minecraft PE, fog will appear after the rain.
Realistic
The main aspect that the authors of Zebra Shaders decided to bet on is realism. The fact is that in Minecraft PE there will now be an animation of the movement of foliage on trees and other plants.
Of course, this will give the gameplay a new meaning and help the player to fully immerse himself in the atmosphere of the cubic world. By the way, despite such drastic changes, the territory has retained its original appearance and recognizable features.
Heroes should wait until nightfall to see how beautiful and interesting the space around them looks. The sky will be strewn with bright stars. But do not forget that at this time of day, there are much more dangers around.
What if the Zebra shader doesn't work?

Try to activate the experimental game mode.

Can I use it on servers?

Yes, you are free to use it on public servers.

How do I install this shader?

The file is in .mcpack extension, so just tap on the file to automatically install the modification.
download anchor
Download Zebra Shaders for Minecraft PE