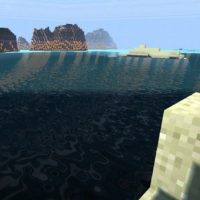 KUDA Shader for Minecraft PE
Version MCPE: 1.1.0 - 1.20.31
Download
Download KUDA Shader for Minecraft PE: change the settings and watch how the surrounding space will be transformed, in which more realism and shadows will appear.
What is unique in KUDA Shader?
The authors of KUDA Shader took care of every Minecraft PE user and made three upgrade options that are suitable for absolutely any device. Depending on the performance, players can choose one of three options.
Each of them will have a different set of functions and external changes that will occur in the surrounding space. For example, the appearance of the sky will change, and the sun or moon will appear on it, more similar to the real ones.
There will also be shadows that cast objects and even the player himself.
Variants
In total, the authors of KUDA Shader have provided three design options, from which players can choose the right one for their device:
Low – the graphics will change, but it will be far from ideal. At the same time, the number of departures and bugs will be minimal;
Medium – the picture will become better, but still not perfect;
Ultra – maximum features for Minecraft PE, which will completely transform everything around, but not suitable for all users.
Even though all options have different capabilities, each of them is unique in its way and will create a completely new atmosphere in the cubic world.
Graphics
In any of the proposed options, Minecraft PE players will be able to appreciate the unsurpassed quality of graphics and the thoughtfulness of all details. The authors of KUDA Shader have done a great job with shadows that will make the cubic world realistic and natural.
Calmer and richer shades give the whole space a refined look, and the atmosphere of tranquility accompanies the hero from the first few minutes.
Brightness
An important factor in any changes is the improved brightness, which in KUDA Shader allows you to fully immerse yourself in a completely new Minecraft PE space.
What if the KUDA Shader does not work?

Try to activate the experimental game mode.

Can I use it on servers?

Yes, you are free to use it on public servers.

How do I install this shader?

The file is in .mcpack extension, so just tap on the file to automatically install the modification.
download anchor
Download KUDA Shader for Minecraft PE