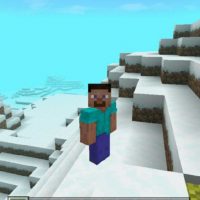 Iris Shader for Minecraft PE
Version MCPE: 1.19.0 - 1.20.15
Download
Download Iris Shader for Minecraft PE: high performance and excellent pictures will make the gameplay stable and interesting.
What is interesting about Iris Shader?
Traveling through a space that will not only be distinguished by interesting locations, but also by an impeccable appearance is much more interesting. This is exactly what Iris Shader has.
With its help, you can make the picture juicier and richer, as well as add a certain realism to it. The authors have added animation to some previously static objects.
It is worth noting that it is not worth worrying that after such changes Minecraft PE will crash because excellent performance will make the application stable and clear.
Description
The main reason why the developers of Mojang Studios do not make Minecraft PE more realistic is possible stability problems. Any such changes negatively affect stability and lead to all kinds of failures and crashes.
But the authors of Iris Shader managed to optimize their creation so much that now a large number of users can appreciate the beauty of the updated cubic world. The changes become noticeable from the first minutes. At the same time, they perfectly harmonize with the entire surrounding space and make staying in the game a real pleasure.
Changes
The authors of this update invite all Minecraft PE users to enjoy impeccable graphics and stable gameplay. Iris Shader differs from similar updates in that it changes not only the visual component of the cubic world but also has a positive effect on performance.
A new dynamic lighting will appear in the space surrounding the players, thanks to which all colors will become more pleasant and comfortable for the eyes. Animation of various previously static objects, such as foliage on trees or bushes, also appeared.
All celestial objects such as the sun, moon, and clouds have a beautiful and realistic shape, and the surface of the water has become more transparent and shimmers with different colors.
What if the Iris shader does not work?

Try to activate the experimental game mode.

Can I use it on servers?

Yes, you are free to use it on public servers.

How do I install this shader?

The file is in .mcpack extension, so just tap on the file to automatically install the modification.
download anchor
Download Iris Shader for Minecraft PE