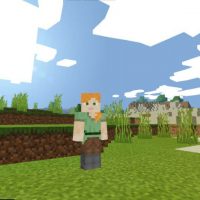 Hero Shader for Minecraft PE
Version MCPE: 1.16.0 - 1.20.15
Download
Download Hero Shader for Minecraft PE: improve lighting, add shadows and new textures to existing objects, and make the gameplay more realistic.
What is interesting in Hero Shader?
Hero Shader offers players the most complete set of currently existing functions. When creating it, the authors used all currently existing rendering technologies.
This made it possible to create such a realistic and attractive space that every Minecraft PE user will be amazed by the result. First of all, it is worth noting the excellent lighting that made the cubic world brighter. A variety of new textures, shadows, and many other effects have also been added.
Improved textures and lighting
Lighting in the cubic world plays a huge role in the entire gameplay. That is why the authors of Hero Shader paid special attention to its improvement. They used techniques such as dynamic shadows and more realistic illumination of the sun and moon, as well as volumetric fog.
All this made the space surrounding the players amazing and interesting. The second important point in the graphic component of the game is textures. They have become more qualitative and have made the appearance of blocks, objects, and mobs in Minecraft PE more detailed.
Additional effects
In addition to the above changes, Hero Shader includes other equally interesting and unusual ones. Among them, players can highlight the increased sharpness and depth of colors and a variety of shades.
Minecraft PE players can use such effects to further enhance the realism of the game. It is worth noting that this update can be used in other shaders. Thanks to the increased optimization, the gameplay will take place without any failures and errors.
Create your own adventure story in an updated and unique space. Be sure to invite friends to study all the changes together.
What if the Hero shader does notwork?

Try to activate the experimental game mode.

Can I use it on servers?

Yes, you are free to use it on public servers.

How do I install this shader?

The file is in .mcpack extension, so just tap on the file to automatically install the modification.
download anchor
Download Hero Shader for Minecraft PE