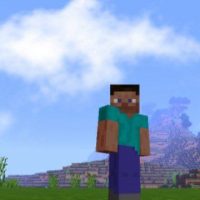 Enhanced Default Shaders for Minecraft PE
Version MCPE: 1.17.0 - 1.19.63
Download
Download Enhanced Default Shaders for Minecraft PE: add new colors and animations to the familiar world.
What is new in Enhanced Default Shaders?
Enhanced Default Shaders will update the game space and make it really unlike anything that has ever been in Minecraft PE.
The developers have tried to bring maximum realism to the cubic world of each object. Colors and graphics have become softer. An incredible number of different shades create an amazing atmosphere in the familiar look of the game.
Main Features
The changes have occurred in the game when the hero gets into Minecraft PE.  Thanks to Enhanced Default Shaders become noticeable.
In any weather and at any time of the day or night, the picture looks truly realistic and lively. The updates affected literally every element of the game space.
Above his head, the hero sees a beautiful blue sky, through which beautiful clouds are flying and the real sun is shining high. It has the correct shape and does not look like a square.
At night, bright stars and an incredibly beautiful moon will appear in the dark sky.
The developers have added movement to the foliage of trees and grass, which looks amazing and beautiful.
Graphics
The graphic component of the game is designed in such a way that anyone who installs Enhanced Default Shaders gets into an absolutely amazing space.
The water has received a crystal clear shade and is perfectly combined with the rest of the Minecraft PE objects.
Even in rainy weather, the nature around looks just amazing. Exploring such a world is doubly pleasant because the visual component of the game is very important.
If the player looks at the villagers at night, he will notice that all the buildings are illuminated. The bright moon illuminates everything around, creating an indescribable feeling for the hero.
What if the shader doesn't work?

Try to activate the experimental game mode.

Can I use it on servers?

Yes, you are free to use it on public servers.

How do I install this shader?

The file is in .mcpack extension, so just tap on the file to automatically install the modification.
Download Enhanced Default Shaders for Minecraft PE