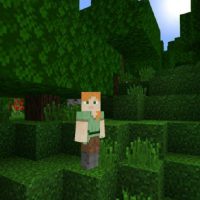 Console Shader for Minecraft PE
Version MCPE: 1.13.0 - 1.20.41
Download
Download Console Shader for Minecraft PE: appreciate the improved saturation and contrast of colors, as well as a more realistic sky and leaf animation.
What is interesting in Console Shader?
It is very easy to make the world of Minecraft PE more realistic and interesting with Console Shader. Initially, such an update was created for PlayStation and Xbox, but now there is also an option compatible with the version for mobile devices.
This is a completely new look at the territory surrounding the player. Thanks to changes in graphics, as well as improved animation, a unique atmosphere is created in the cubic space.
The authors have tried to make the update accessible and interesting for all users.
Graphics
It is worth noting that the authors of Console Shader tried to make the graphics more contrasting and saturated. From the first minutes in the updated space, all the changes that have occurred become noticeable.
Minecraft PE players will notice that the moon and the sun have received a correct and more rounded shape, which gives the overall appearance of the entire sky a realistic and naturalness.
Smooth transitions of different shades will make the entire territory visually more saturated and diverse.
Animation
Of course, Console Shader could not do without adding animation, because it is best able to add realism to the surrounding space. Now the grass and leaves on the trees will move in time with the light wind.
The developers did not forget about water bodies, on the surface of which small waves and beautiful glare will appear. And also the water has become more transparent and now even from the land you can see what is happening at depth.
In such a world, you immediately want to linger and create something unique, as well as go on a journey to get acquainted with all the changes that have occurred around you.
Make the world of Minecraft PE more interesting and the adventures unforgettable. Invite your friends to evaluate the new look of the familiar territory together.
What if the Console Shader does not work?

Try to activate the experimental game mode.

Can I use it on servers?

Yes, you are free to use it on public servers.

How do I install this shader?

The file is in .mcpack extension, so just tap on the file to automatically install the modification.
Download Console Shader for Minecraft PE