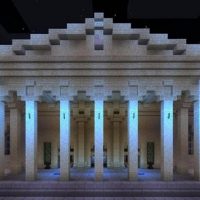 Colored Lights Shaders for Minecraft PE
Version MCPE: 1.13.0 - 1.20.31
Download
Download Colored Lights Shader for Minecraft PE: change the type of lighting in the cubic world at your discretion and evaluate how the entire surrounding space has been updated.
What is interesting in Colored Lights Shader?
From the moment when the change of day and night appeared in Minecraft PE, quite a lot of time has passed, and most users do not even assume that it was once otherwise. Nevertheless, in the dark, the issue of lighting remains very relevant.
At the moment, players can use various lanterns and torches, as well as make a bonfire. They can get froglight blocks, which can also illuminate the surrounding space.
That is why the authors of Colored Lights Shader suggest making some changes to this important process.
Mechanics of use
It is worth noting that by installing Colored Lights Shader, the player will immediately receive a package of 8 different color solutions. All of them relate to the lighting of the space and will change the color of lanterns, torches, and other reflective blocks.
There are eight options to choose from: warm, yellow, blue, purple, red, green, blue, and emerald.  Thus, every hero will find a suitable solution for himself and make the world of Minecraft PE unusual and interesting.
Features
To change the lighting color, simply select the shader you like from the eight suggested options. After installing it, wait until night and install any lighting item or unit.
The world of Minecraft PE will become more colorful. And for the creators of maps or updates, Colored Lights Shader will be a great solution. Because lighting one hundred percent creates the necessary atmosphere.
For example, the red option in addition to terrifying sounds is suitable for horror adventures, and yellow or a warm shade, on the contrary, will fill the surrounding space with tranquility and peace.
What if the Colored Lights Shader does not work?

Try to activate the experimental game mode.

Can I use it on servers?

Yes, you are free to use it on public servers.

How do I install this shader?

The file is in .mcpack extension, so just tap on the file to automatically install the modification.
download anchor
Download Colored Lights Shader for Minecraft PE