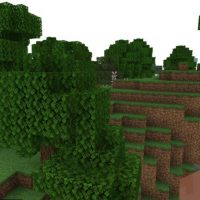 Bicubic Shaders for Minecraft PE
Version MCPE: 1.19.0 - 1.20.15
Download
Download Bicubic Shaders for Minecraft PE: turn a cubic world into an amazing space, and add more animation and realism to it.
What is interesting in Bicubic Shaders?
The standard graphics in Minecraft PE have quite characteristic and memorable features, but at the same time, many users would like to improve it at least a little. Various developers who create similar Bicubic Shaders updates come to their aid.
After installing it, travel will become even more interesting, because the cubic world will get even more different bright colors, animations, and shadows.
Water objects
Moving through Minecraft PE, players constantly encounter lakes, rivers, and seas on their way. Therefore, they must look realistic. The authors of Bicubic Shaders fully coped with this task.
They managed to transform water bodies, making them incredibly beautiful.
Features
Among the characteristic features of Bicubic Shaders, players can highlight a beautiful sky with realistic clouds, as well as the appearance of animation on all types of vegetation in Minecraft PE.
Thanks to such changes, it will be even more interesting for the heroes to move around the area, discovering something new. Bright and dynamic colors will make your stay in the game very exciting and interesting.
Nature
The author of Bicubic Shaders also managed to add new lighting and shadows to Minecraft PE, which certainly made the surrounding space amazingly beautiful. In addition, after waiting for sunset or dawn, it will be possible to observe how beautifully the rays of the sun are reflected on the surface of reservoirs.
This made it possible to create a special atmosphere around and give the gameplay a new meaning. Every user should find out about the possibility of such changes, after which they will not want to return to the previous option.
What if the Bicubic shader doesn't work?

Try to activate the experimental game mode.

Can I use it on servers?

Yes, you are free to use it on public servers.

How do I install this shader?

The file is in .mcpack extension, so just tap on the file to automatically install the modification.
download anchor
Download Bicubic Shaders for Minecraft PE