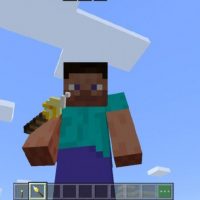 Torch Mod for Minecraft PE
Version MCPE: 1.14.0 - 1.20.15
Download
Download Torch Mod for Minecraft PE: travel through the cubic world without fear that any monster can sneak up in the dark unnoticed.
What is interesting in Torch Mod?
To simplify the process of survival, players use a variety of options and devices. This time, the authors of Torch Mod offer updated items to illuminate the surrounding space.
They are perfect for those Minecraft PE heroes who explore dark dungeons in search of valuable resources, as well as travelers who did not have time to get to the shelter in time and night came.
 Dynamic
The authors of this update for Torch Mod do not have to worry about missing a turn in the cave or not noticing valuable resources. Now they will have at their disposal a special item that can be carried in their hands or thrown.
Thus, having illuminated the space in Minecraft PE in front of you, you can not worry about your safety. By the way, the changes affected some types of armor and totems, which will now also be light sources.
Light Sources
After installing the Torch Mod, players will be able to explore the cubic world in the dark without any problems. The fact is that now the light from ordinary torches will become much brighter and more realistic.
By the way, mobs such as Blaze or burning zombies will also illuminate the space around them in Minecraft PE.
Raise Your Torch
The main feature of this update for Torch Mod is that the torch will emit light even when the hero holds it in his hand. Now the exploration of dungeons, caves, and mines will become several times easier and safer.
The updated burner can be crafted independently in Minecraft PE. This will require 1 piece of coal, a stick, and an iron ingot. Also, a ready-made item is available in the Inventory in Creative mode. Light your way and do not worry about something going unnoticed in the dark.
How do I install this Torch Mod?

The file is in .mcaddon extension, so just tap on the file to automatically install the modification.

Can this mod be run in a multiplayer game?

Yes, for this it is enough just to be the owner of the map and install this modification on it.

What if the mod does not work?

Try to activate the experimental game mode.
download anchor
Download Torch Mod for Minecraft PE