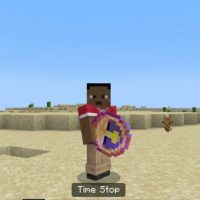 Time Stop Mod for Minecraft PE
Version MCPE: 1.18.0 - 1.20.32
Download
Download Time Stop Mod for Minecraft PE: stop the movements of any processes, mobs, and players in the cubic world, and learn how to speed up the movements of the hero.
What is interesting in Time Stop Mod?
In the real world, people cannot control time, change its speed or stop it altogether. Such opportunities appear only in the characters of books, movies, and also in Minecraft PE players.
Use a special clock in Time Stop Mod to stop the explosion process or the attack of a powerful enemy. Now you can even freeze the movements of other players. At the same time, Steve himself will move incredibly fast and will defeat all the enemies.
Time Stop
This time, players will have four items at their disposal at once. Outwardly, they look like a watch face, each of which has its own color and unique features. For example, by installing the Time Stop Mod, you can not only slow down the movements of a Warden or other dangerous creature but also completely stop it.
At the same time, using other devices, the movements of the players will become so fast that no opponent will be able to resist his attacks. Stop the fire or prevent an explosion – any action in Minecraft PE can now be controlled.
Time Control
Minecraft PE players can reduce the damage they receive in battle in various ways. For example, use reliable armor or powerful weapons. Time Stop Mod offers a completely different approach.
The enemy will not be able to attack and cause damage to the hero if he cannot move. It is this option that the developers of this update offer to evaluate. The second item that will be available to players, provided that the Creative Game mode is enabled, will be a time accelerator.
Now moving around the boundless world will become fast and even almost lightning fast. You can not only visit the maximum number of locations but also deftly escape from the attack of any enemy.
How do I install this Time Stop Mod?

The file is in .mcaddon extension, so just tap on the file to automatically install the modification.

Can this mod be run in a multiplayer game?

Yes, for this it is enough just to be the owner of the map and install this modification on it.

What if the mod does not work?

Try to activate the experimental game mode.
download anchor
Download Time Stop Mod for Minecraft PE