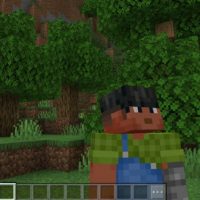 Third Person Camera Mod for Minecraft PE
Version MCPE: 1.17.0 - 1.20.15
Download
Download Third Person Camera Mod for Minecraft PE: get access to a variety of settings that will help in the process of survival and make the game even more interesting.
What is new in Third Person Camera Mod?
Make the camera angle more exciting and cinematic with the Third Person Camera Mod. This will help you get a great experience from the gameplay.
The dynamic display will make the picture unusual and at the same time quite convenient. Previously, such features have never been available to players in Minecraft PE. This functionality can be used in any mode, as well as when playing on servers or in a multiplayer version.
Learn a lot of new and interesting things and spend an interesting time together with your favorite game.
Third Person Camera
This update will help make the third-person view more cinematic. The authors of the Third Person Camera Mod have changed the rendering of the player. Now, if it is hidden by any block or during an attack and other interactions, it will become translucent. This will also happen if the camera is too close to the player's model.
This is done so that the Minecraft PE user has a complete overview of the surrounding space. Such features are suitable for use on servers and during multiplayer games. This will greatly simplify the survival of each player.
Dynamic
A new feature that was not previously available in Minecraft PE will appear after installing the Third Person Camera Mod. To open the settings menu, enter the /function config command. After that, you will be able to choose different modes and configure them.
For example, setting auto-aiming or bending when squatting.  Also, when using various items, such as a bow, sword, or telescope, there will be an automatic camera change.
Explore all the options and make the gameplay convenient and comfortable.
How do I install this Third Person Camera Mod?

The file is in .mcaddon extension, so just tap on the file to automatically install the modification.

Can this mod be run in a multiplayer game?

Yes, for this it is enough just to be the owner of the map and install this modification on it.

What if the mod does not work?

Try to activate the experimental game mode.
download anchor
Download Third Person Camera Mod for Minecraft PE