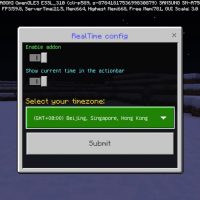 Real-Time Mod for Minecraft PE
Version MCPE: 1.19.0 - 1.20.15
Download
Download Real-Time Mod for Minecraft PE: synchronize game processes with the real world, and make a day in the cubic world equal to 24 hours.
What is interesting in Real-Time Mod?
The time spent in the game can fly by unnoticed. That is why developers create a variety of updates that make changes to the cubic world. After installing the Real-Time Mod, players can set any zone.
You can also display the clock on the screen in a 12 or 24-hour version. Thus, Minecraft PE will become more realistic, and new features will appear. Each user can independently adjust the display of this or that information and make the cubic world more diverse.
Real-Time
Minecraft PE players live all over the world and, accordingly, the onset of day and night may differ for each of them. And this does not coincide in any way with what is happening in the game, but the authors of the Real-Time Mod decided to fix it.
Use the /function sirob_realtime_cfg command, after that a special menu will open. In it, you will need to set a zone along which the day or night will begin. Players can also set the display of numbers on the screen.
By the way, the changes will be available even in multiplayer. Make your adventures unusual and diverse, as well as surprise your friends with new opportunities.
New
Another option for setting the hours in Minecraft PE is offered by the authors of this update for Real-Time Mod. This time the command to be written is as follows: /function RT/start. After that, a small menu will also be available in which players can set the 12 and 24-hour format.
Track the gameplay while keeping in touch with the real world. Share new features with other players, as well as spend time together in a fun and interesting way. Perhaps such changes will inspire users to create something new and unusual in the cubic world.
How do I install this Real-Time Mod?

The file is in .mcaddon extension, so just tap on the file to automatically install the modification.

Can this mod be run in a multiplayer game?

Yes, for this it is enough just to be the owner of the map and install this modification on it.

What if the mod does not work?

Try to activate the experimental game mode.
download anchor
Download Real-Time Mod for Minecraft PE