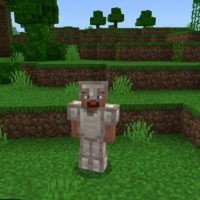 Quartz Mod for Minecraft PE
Version MCPE: 1.17.0 - 1.20.15
Download
Download Quartz Mod for Minecraft PE: use armor and weapons made of this material and get unique effects useful in battle.
What is interesting in Quartz Mod?
Quartz Mod will help to diversify the choice of materials from which you can create armor or a sword. The authors even made an improved workbench to make the crafting process even more convenient.
Now the gameplay in Minecraft PE will become more interesting, and players will gain invaluable experience in the process of using new features.
Items
The authors of this update for Quartz Mod will delight Minecraft PE players with a large selection of blocks and equipment made of this material. To make crafting items even more convenient. They also created an improved workbench.
For those who want to get everything at once, the Inventory of the Creative Mode presents a wide selection of all available objects that will please not only the appearance but also the functionality.
Blocks
This update for Quartz Mod will help make the cubic world even brighter and more colorful. It includes more than a hundred types of quartz blocks, from which further ladders and semi-blocks can be made.
The recipes are similar to the recipes from the boards. Such an extensive selection of options will allow absolutely every Minecraft PE user to show their imagination and bring to life the most daring ideas.
Plus
Two variants of quartz armor are offered to Minecraft PE users who install this add-on. The first option looks quite ordinary and has high durability and a degree of protection of 18 units.
But the most attention of users deserves its improved version. Every time the health of the hero level drops below 6 units, each of its elements gives him a unique effect.
In Quartz Mod, the helmet gives regeneration for 8 seconds, the breastplate makes it invulnerable, pants – fire resistance, and boots – speed. Shoes also remove the effect of slowing down.
How do I install this Quartz Mod?

The file is in .mcaddon extension, so just tap on the file to automatically install the modification.

Can this mod be run in a multiplayer game?

Yes, for this it is enough just to be the owner of the map and install this modification on it.

What if the mod does not work?

Try to activate the experimental game mode.
download anchor
Download Quartz Mod for Minecraft PE