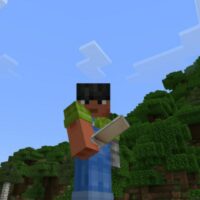 Phones Mod for Minecraft PE
Version MCPE: 1.18.0 - 1.20.40
Download
Download Phones Mod for Minecraft PE: Use modern gadgets in the process of survival, and make the gameplay more realistic.
What is interesting in Phones Mod?
It is impossible to imagine a modern person without a smartphone in his hands. Indeed, these devices now allow you not only to contact people around the world but also to take a photo or video, watch a movie, read the news, and much more.
At the same time, there have never been such devices in Minecraft PE and it is unlikely that they will ever appear in official releases. Therefore, the authors of Phones Mod offer the heroes to get a modern device and use it to succeed in the process of survival.
Real Phones
10 models of the most modern phones will be received by users who install this Phones Mod update. There are three ways to get it at once. Firstly, all gadgets will appear in the Inventory if the Minecraft PE player has turned on Creative Mode.
Also, use the command /give @s phone: and then select the model you are interested in. The third option is to obtain using a stone cutter, for this, you need to put a copper ingot in it.
Smartphones
After installing this Phones Mod update, the heroes will have only one device at their disposal – a smartphone. It can be found in the Inventory of the Creative Mode. At the same time, it is worth noting that the possibilities of this gadget are almost limitless.
With it, you can change the weather, send money to friends, switch the time of day, and turn on music. In the process of survival, this device will also be useful for Minecraft PE players, since with its help it will be possible to obtain regeneration effects, acceleration, and many others.
A convenient menu will allow you to easily understand all the nuances and start using this object immediately after installing the update. By the way, you can craft the gadget yourself. This will require 3 iron ingots, 2 redstone, 1 dye, and one glass.
How do I install this Phones mod?

The file is in .mcaddon extension, so just tap on the file to automatically install the modification.

Can this mod be run in a multiplayer game?

Yes, for this it is enough just to be the owner of the map and install this modification on it.

What if the mod does not work?

Try to activate the experimental game mode.
Download Phones Mod for Minecraft PE