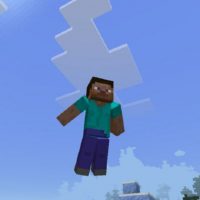 Parkour Mod for Minecraft PE
Version MCPE: 1.2.0 - 1.20.15
Download
Download Parkour Mod for Minecraft PE: upgrade your abilities, learn how to easily overcome any obstacles, and move much faster.
What is interesting in Parkour Mod?
The art of parkour has many fans in the world of Minecraft PE. Moreover, the cubic world is an ideal platform for this kind of activity. The developers also create a variety of maps on which players need to overcome all sorts of obstacles on the way to their cherished goals.
Thanks to the Parkour Mod update, each user can improve their skills and get the opportunity to jump further and higher. Also, after installation, the speed of movement will become much faster, so such adventures will become incredibly interesting and exciting.
Reduce Player Gravity
As you know, the lighter an object is, the easier it is for it to move in space. These are the changes that will happen to the Minecraft PE player after installing this update for Parkour Mod.
Now it will be several times easier to jump over obstacles, which means it will be possible to practice parkour in the process of exploring the cubic world.
Speed-Jump
The authors of this update for Parkour Mod not only increased the jump height of players in Minecraft PE but also changed the speed of their movement. Now moving around the cubic world will be much faster.
At the same time, the more the player spends time doing this, the faster and higher his movements will be.
Parkour Animations
The authors of this update offer Minecraft PE players to challenge the laws of gravity and reach unprecedented heights in parkour. It will not be difficult to climb to the highest point in the cubic world or overcome any obstacles now.
This addition for Parkour Mod will make every movement of the hero easy and will allow you to improve your skills in the process of moving around the territory. Compete with your friends and be sure that you will be the first to reach the finish line.
How do I install this Parkour mod?

The file is in .mcaddon extension, so just tap on the file to automatically install the modification.

Can this mod be run in a multiplayer game?

Yes, for this it is enough just to be the owner of the map and install this modification on it.

What if the mod does not work?

Try to activate the experimental game mode.
download anchor
Download Parkour Mod for Minecraft PE